Metro Express Limited
Metro Express Limited (MEL) is a registered Mauritian Company, incorporated on 26 October 2016, wholly owned by the Government of Mauritius. It is responsible for the implementation of a multimodal transport system by pioneering a new sector in the local transport industry through the development, financing, construction, operation and management of the Metro Express Light Rail Transit (LRT) System in Mauritius under the Metro Express Project.
Our vision
To create integrated public transport opportunities by delivering sustainable world-class transport solutions.
Our mission
To collaboratively develop and operate an economically and environmentally sustainable light rail network that is inclusive, comfortable, safe, secure, reliable, and accessible to all members of society.
The Metro Express team: Our culture and key values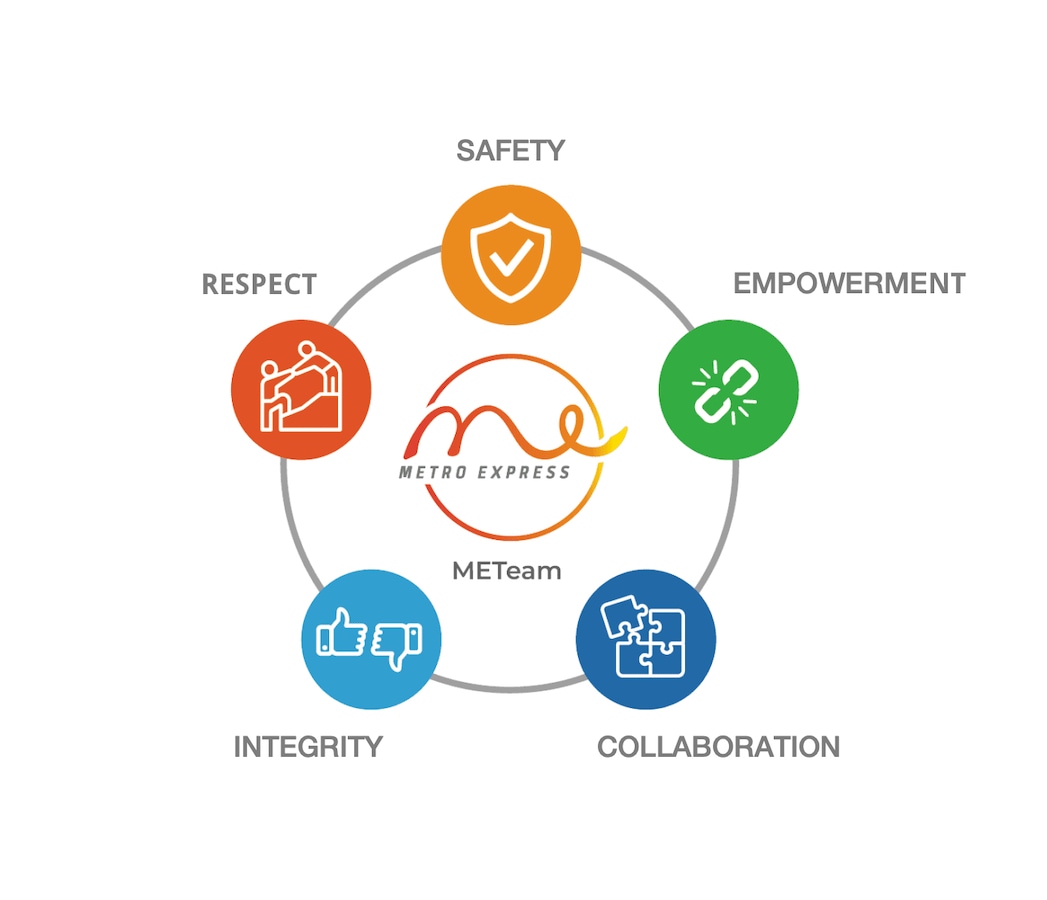 Policy statement
Our aim is to create and maintain a safe environment for our employees, customers and partners. We achieve this objective by promoting a proactive safety culture through collaborative methods, continuous engagement and improvement.
An eco-friendly perspective
A sustainable approach that is environmentally friendly
Metro Express Limited (MEL) is concerned about the environment and is committed to applying and promoting the most sustainable approach possible across all of its activities. Our LRVs are powered by electricity and whenever an LRV's brakes are applied, the energy generated is automatically stored and re-used for other systems, such as lighting at our stations, powering our AVVM machines, etc. Our depot is equipped with a water recycling washing plant which enables us to recycle used water for washing our LRVs. The Metro Express runs on electricity and is therefore a greener vehicle. The energy generated when the brakes are applied is automatically stored in a power plant and is redistributed for use across the network, for station lighting and powering the electronic ticketing machines. The Metro Express depot is equipped with a rainwater collection and recycling system used for washing vehicles.
In order to compensate for the loss of the Roland Armand walkway along Vandermeersch Street between Rose Hill and Beau Bassin, a budget of MUR 100 million has been allocated for the creation of a new leisure and recreation park, the 'Ebene Recreational Park', located approximately 500 metres from Rose Hill Central Station. The park will contain over 600 exotic trees (Park Trees), 1550 endemic trees (Forest), 240 tall palms (Avenues), 62 000 plants and 12600 square metres of grass. For every tree that was unfortunately and unavoidably removed from the Roland Armand walkway, MEL has promised to plant 3 new trees.
The Ebène Recreational Park was officially inaugurated on Saturday December 05, 2020, by the Prime Minister, the Honorable Pravind Kumar Jugnauth, accompanied by the Honorable Alan Ganoo, the Minister of Transport and Light Rail , Dr Das Mootanah, CEO of Metro Express Ltd and as well as other governmental bodies.
The park is open to public as from Monday to Sunday at 05:00 AM to 08:00 PM.
The park includes several key facilities including:
Security at the entrance
A 2,000m² fenced children's play area including a small fitness track and outdoor play equipment
A bandstand for concerts and events
An 800m exercise course, including sports equipment at regular intervals
A large landscaped esplanade
Pools and water features integrated with the existing canal
An open-air amphitheater
An Experimental garden
Toilet facilities at the entrance
An office and maintenance area, including waste and compost bins
Le Conseil d'Administration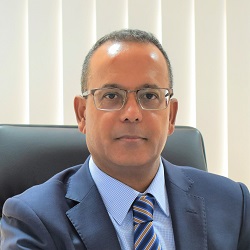 Mr. Nayen Koomar BALLAH, GOSK
Mr. Georges CHUNG TICK KAN
Mr. Dheerendra Kumar DABEE, GOSK, SC
Message from the CEO
Mauritius new light rail transit (LRT) system, the Metro Express, represents a significant challenge for the country but above all a remarkable improvement for the people of Mauritius. This project is one of the most complex national infrastructure developments ever undertaken, which is all the more reason to be proud of it!
The Metro Express marks the first investment in train travel since the old lines were closed in the 1960s. Our innovative rail network has not only revolutionised the public transport sector but has also left several benefits in its wake.
The Metro Express, which aims to reduce the use of private motor vehicles, offers the Mauritian public an environmentally responsible alternative to public transport, a service at the cutting edge of technology, and significant time saving. All Metro Express stations are equipped with facilities that encourage the use of bicycles, further promoting sustainable initiatives. The first expected benefit of the Metro Express is road traffic reduction, without which the direct and incidental losses from road congestion would have continued costing the Mauritian economy around MUR 10 billion every year.
Another economic benefit is the direct and indirect creation of businesses and employment, as a result of the establishment of Metro Express central stations in towns, promoting economic growth along the entire Metro Express corridor.
In addition to its inherent safety as a mode of public transport, the Metro Express also ensures the personal safety of its users, day and night, thanks to security patrols, the Police, and CCTV video surveillance. It is one of the most comfortable ways to get to work, it's a fun way to travel for a day out, and its user-friendliness has social benefits for passengers too.
Welcome aboard the Metro Express and enjoy your journey!
The Light Rail (COVID-19 Sanitary Measures) (Amd) Reg 2020
267_The Light Rail_Policy of Insurance
The latest versions are available on the website of the Attorney General.